Lluís Daunis Montada (1916-1979) began his passion for mineralogy when elderly, as a family father, and his love was due in large part to the love he always had for the mountains, wanting to spend as much time as possible in contact with Nature.
Self taught, he learned by buying books and meeting in his spare time with the collectors and merchants of the time: Joaquín Folch, Josep Cervelló, Enric Kucera, Soler i Pujol (Josep Palaus), S.E.C. (Suministros Escolares y Científicos), Figueras...
He began to gather his first minerals on weekends in outings to localities near Barcelona, and gradually expanded his range of action in Catalonia and then also throughout Spain, taking advantage of summer and Easter vacations. He was fortunate to live the golden age of searching for minerals (Montseny, Sierra de Madrid, Sallent de Gállego, Eugui...) and also had the success of being a great searcher. He was always accompanied by his wife Maria Ruscalleda and during many years also by his daughter Núria, to whom he passed his hobby, so that the two became his best and most faithful collaborators.
He was well known to have obtained very good Catalan specimens, being one of the pioneers in locating and finding good pieces of amethyst in Montseny, in the Les Mallorquines area, long before the modern discoveries, as well as very good examples of Quartz and Feldspars from both Catalonia and the Sierra de Madrid as well as Huesca.
Unfortunately he could never realize his dream: to retire and to devote all his time to minerals. He wanted to get started in microscope photography and also wanted to better document and organize the collection, but a disease took him at 63 years of age.
His wife Maria Ruscalleda maintained and expanded the collection until the last years of her life and passed it on to her daughter Núria, who has kept it until the end of 2017.
Núria Daunis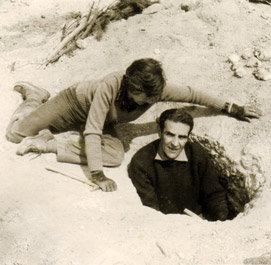 Lluís Daunis with his wife Maria Ruscalleda in 1972 in an exceptional geode in the Madrid mountain range that produced more than 25 boxes of specimens of Quartz and Orthoclase and in which they were finding more samples throughout several years.
Photo: Núria Daunis