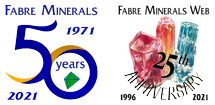 Mineral Specimens - page 11
Brazil
The Euro / US$ / Yen exchange rates are the official ones and we update them regularly. You can check the exchange rate details by placing your cursor over the price, or by clicking on it.

Text: Carles Curto (formerly curator of the Geology Museum, Barcelona) & Jordi Fabre


Translation: Alfredo Petrov
Assistance from John S. White (former Smithsonian curator)

---
---
---
---
---
---
---
---
---
One of the main novelties during the Ste. Marie-aux-mines Show 2003 was the new find of huge Anatase crystals groups which are epitaxial with their polymorph Rutile. To our knowledge these new crystals have never been found before in this shape and size. It is not only something very aesthetic and totally different from other forms of Anatase but, considering its size, beauty, perfection and also that the crystals are doubly terminated and floaters, it could be considered to be one of the best finds for this species. Enjoy them!

---
Previous Page Next Page




All pictures, text, design © Fabre Minerals 1996-2023 — Europe's first Internet mineral dealer, on the web since 1996