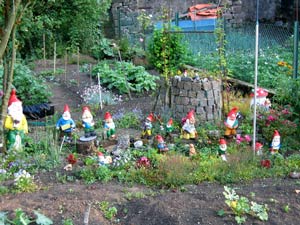 The dwarfs placed in this garden indicate the most important subject: "What's new" in Ste. Marie.
There are two main things: one related to various discoveries and the other to old collections put on sale.
Starting off with the recent discoveries, I would emphasize the notable presence of Morocco, with numerous novelties: excellent Acanthites from Imiter, colorful Titanites from Imilchil, extraordinary Fluorites from El Hamman, very nice Azurites from Kerrouchen, and attractive Erythrites from Bou-Azzer, which were totally different from the ones previously discovered, with a velvety appearance and lots of color. We will offer specimens of all of these novelties in our future updates, except for the Erythrites, which due to their fragility cannot be shipped.
A country that rarely produces minerals that end up in the collections is Bosnia-Herzegovina. However, the world's main museums all have one typical species from this country: the Hyalophane from Busovaca, a species that long ago vanished from the market. Local prospectors were able to enter the Zagradski Potok mine in Busovaca where they found a considerable number of Hyalophanes, some of them of high quality and there were even some matrix specimens, something that I had never seen before. As with the Moroccan novelties, we will also offer Hyalophane specimens in our future updates.
Another popular novelty, since the number of pieces offered at the fair disappeared quickly, were the green or yellow octahedral and cuboctahedral Fluorites, sometimes arranged over white or hematoid Quartz. These Fluorites were found in the northern area of the Orange River, specifically on the Omdraii farm, near Kakamas. No examples of Fluorite have been found in this area before, so we will see if more of them appear in the future.
In relation to old collections for sale, we displayed pieces from the Folch collection, put on sale at a mineral fair for the first time. Another French collection, Champagne, with worldwide examples of a remarkable quality was also offered for first time at the Show. We will offer examples from both collections in our future updates.
Pakistan-Afghanistan and China were with no doubt the most notable countries during the fair, with a high number of extraordinary examples. Highlights include the exceptional Aquamarines found near Nyet Bruk, Braldu Valley in Pakistan, as well as the incredible (due to its size) Brookites on Quartz from Baluchistan.